Virtual Rebuilding of Great Synagogue in Warsaw
It was pleasure to create for second time an unique, efemeric project of the Great Synagogue in Warsaw symbolic rebuilding accoring to the Gabi von Seltmann concept and thanx to Otwarta Rzeczpospolita in commemoration of the 76th anniversary of the Warsaw Ghetto Uprising.
The Great Synagogue Restores Memory / 18th April 2019 from 9:00 to 11:00 PM
Bankowy square, Warsaw
@WielkaPrzywracaPamiec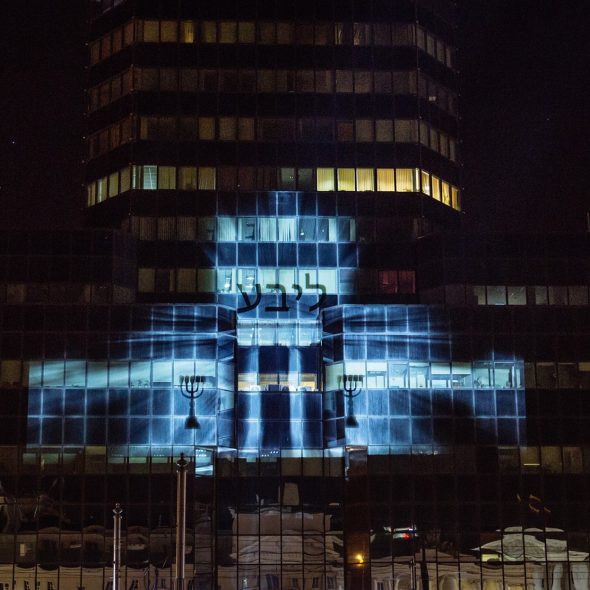 ---
Augmented painting EXQUISITUS SPECULUM at MACRO – Museo d'Arte Contemporanea Roma
The project od augmented painting was for a long time in our plans. Thanx to Ginevra Gadiolo we met Federico Ferrarini, a talented painted from Verona, that was opened for fusion of one of his paintings with digital art and we made it together! We completed the augmented painting EXQUISITUS SPECULUM as an installation in Italy at the MACRO – Museo d'Arte Contemporanea Roma in frame of Fotonica Festival 2018. It is being presented until 15th Dec at the MACRO.
Painting Federico Ferrarini
Digital painting/programming Elektro Moon Vision
Sound designer Paolo Piaser
Curator Ginevra Paolovna Gadioli
Construction supervisors Alessandro Cailotto e Francesco Cailotto
---
Audiovisual interactive installation routes at Wacław Szpakowski rhythmical Lines exhibition in budapest
Honoured to be part of the exhibion of Wacław Szpakowski – Polish artist active in the first half of the 20th century, a forerunner of geometric abstraction in world art, hosted by the Platan Gallery at the Polish Institute in Budapest and the Hybridart Space Gallery, organised by the Culture and Art Centre in Wrocław. Created in the period of 1900-1951, Rhythmical Lines are drawings based on a single unbroken line – mesmerising, rhythmical, and quasi-labyrinthine forms of visual and temporal nature.
Our audiovisual interactive installation Routes will enable public to draw the line by making the sound.
Opening 8th Nov | 19:30 | Hybridart Space, Golomb u.6, Budapest


---
2 visual projects at Unsound presence 2018
Happy to announce our 2 performances during this year Unsound Festival PRESENCE in Krakow:
13th Oct | 23:00 | Hotel Forum | Unsound FOMO – live visuals for Huerco S. presents Pendant
14th Oct | 16:00 | ICE | Unsound Presence: Archive – project based on Zofia Rydet photographs with music of Paweł Romańczuk and Tomoko Sauvage.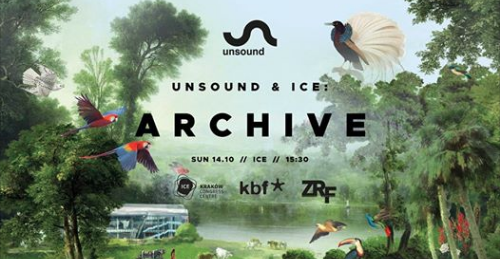 ---
auksodrone 2018 live visuals for contemporary classical music
It was pleasure to create live generative accompanying great contemporary classical music concerts of Zygmunt Krauze, Agata Zubel, Alek Nowak, Zbigniew Namysłowski or Mira Colix during thie year auksodrone festival in Tychy.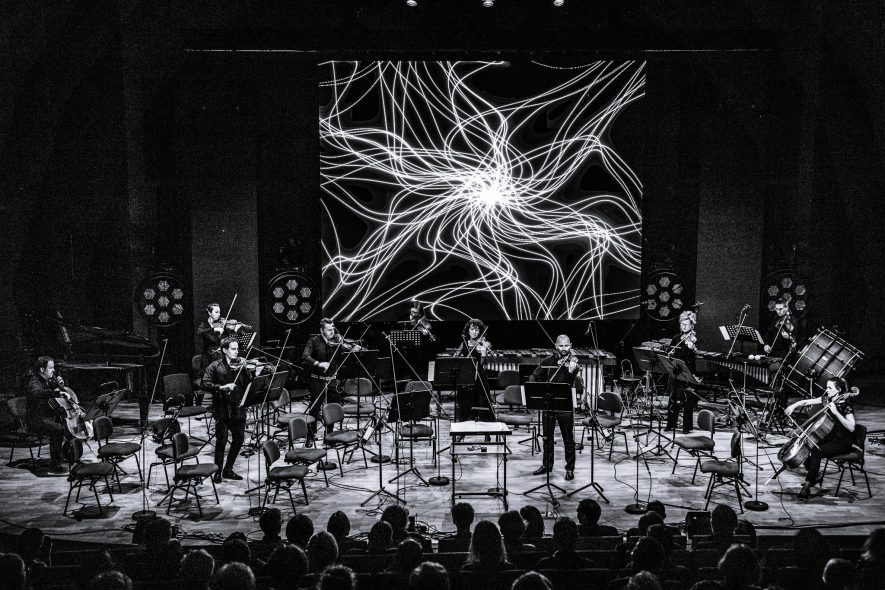 ---
Elektro Moon Vision at the Trendbook as one of the most interesting Polish digital projects
It's pleasure to announce that our Re-Kreacja, REC [Random Eye Check] and Waves installations are included in the Trendbook published by Instytut Adama Mickiewicza as one of the most interesting Polish digital projects from the recent years.
Trendbook is an online database to discover the results of the interdisciplinary dialogue between visual artists, film and theater directors, musicians, video games designers, all using technology in their artistic practice. Check it here.

---
Academic panels, meetings with local artists and Guerilla projections at the International Symposium on Electronic Arts in Durban, South Africa
From 21st to 30th June 2018 we are visiting local artist in Durban ((incl. Mthobisi Maphumulo, Nhlakanipho Mkhize, Sthenjwa Luthuli, Everaldo Matonse, Sphephelo Quasimata Mnguni) and their art labs, collecting footage to include it to the facade projections in the public spaces of the city of Durban in frame of ISEA2018.
More projections in the city are scheduled for Thu 28.06 at the Beachfront and Ushaka and Sat 30.06 at the City Hall Gallery of Durban.
In cooperation with PS2 Bremen, Germany and People's Smart Sculpture EU project.
---
---
From 9th until 23rd of April we were working at the European Capital of Culture Pafos2017 event, entitled ArtTwins in Pafos, Cyprus. During two weeks art residency, together with Cypriot artists Klitsa Antoniou we created an urban memory installation entitled Ars Excerpendi. Semiosis using black light, black paint, uv sensitive paint and strings. Ready work preview is here.

---
Waves at Harvestworks in New York City
'Waves' the interactive installation on 18th Nov was shown at the Digital Art Center Harvestworks on Broadway, New York, in frame of the 5th International Pure Data Convention PdCon16~ organized by the New York University and Stevens Institute of Technology. Use Your Face As Interface workshops were hosted on 19th Nov.
More details can be found here.
---
Waves in Iran at TADAEX
We are excited to exhibit at the 6th TADAEX Tehran Annual Digital Art Exhibition (Iran) our interactive installation 'Waves' from 23-29 Sept 2016!
---
March 2016 – Oddstream Light and Hi-Tech Art Festival, Netherlands
May 19-22 2016 – Athens Digital Art Festival, Athens, Greece
May 26-29 2016 – ROM Riders On the Mall Festival, Budapest, Hungary
---
Nov 25th 2015 we open our new interactive installation Waves inspired by Panoramic Sea Happening of Tadeusz Kantor at the Platan Gallery in Budapest, Hungary.
More details here.
---
Happy to announce that our REC [Random Eye Check] installation is selected for the 16th Media Art Biennale WRO – the major forum for new media art in Poland, and one of the leading international art events in Central Europe!
---
See you at the Transmediale in Berlin!

---
Preparing an interactive site specific installation REC Random Eye Check for Bratislava Kunsthalle Lab.
Don't miss it if you are nearby!
Opening 6th Nov 6 pm
Exhibition runs 7th Nov – 27 Nov 2014
Dom Umenia / Kunsthalle Lab Bratislava / Námestie SNP 12/ Bratislava
Supported by Culture.pl and Polish Culture Insitute
---
In 2014 we celebrate 10 years of Elektro Moon Vision creativity!
Wow, so many memories, projects and crazy solutions! Check our portfolio, what we have done over this time. Cheers!
---
Focused on making happen the 3rd edition of Patchlab Digital Art Festival – international event dedicated to contemporary (post)digital art forms: exhibition of interactive installations // media lab // conference // av performances, DJ/VJ sets. Check out the program and come over!
www.patchlab.pl
[vimeo http://https://vimeo.com/80820286 w=1000&h=281]
---
Our light sculpture is on!
Until 20th Sept 2014 our light sculpture is travelling around the city of Krakow enhancing the Sacrum Profanum Festival, including the WARP25 closing party at Forum Przestrzenie.
Big thanx for all the great people which helped and made it happen:)
---
We did it again!
Another edition of our interactive installation 'Living Room' reviving a space at the legendary Mózg Klub.
And every time we find it so addictive! It's totally new every time, as it is adjusted to the certain space – this time especially for a great Letnie Pranie Mózgu Festival in Bydgoszcz on 17th July. That was great experience and a lot of fun! Thanx to Qba Janicki for invitation and invaluable support!
[vimeo http://www.vimeo.com/102331550 w=1000&h=281]
---
Beautiful music tales project 'Lullabies' realized by amazing people from CHOREA Theatre in Lódź with Natalia Przybysz, which we cooperate with making stage design and visuals, is back! Live in Warsaw: 31.V., Lódź 2.VI, Lublin 7.VI. Cu there!
---
Our interactive mapping installation entitled Re-Kreacja is included to the collection of the Contemporary Art Gallery Bunkier Sztuki.  More information available here.
---
19th of Dec 2014 there was a premiere of multimedia opera directed by Czet Minkus 'Music Dreams '13' with a participation of Jan Peszek, Jerzy Adam Gracjan Vetulani, Agata Zubel, Marek Chołoniewski among other great artists. Media technology, including interactive touch screen for the conductor,  mapping and live visuals were designed by Popesz Csaba Láng.
More information on the project is available here.
[vimeo http://www.vimeo.com/102343347 w=1000&h=281]
---
9-10.12.2013 we had a pleasure to make stage design and visuals for the beautiful music tales project 'Lullabies' realized by CHOREA Theatre in Lódź  with Natalia Przybysz. Link to the event is here.
(photos by Janusz Ratecki)
---
6 Dec 2013 there was a great Chanuka Party with Moldova project and special screen designed and mapped @Alchemia Klub
---
Arrow Things | an interactive installation | Virtual Reality by Magdalena Pińczyńska, Patrycja Ochman-Tarka and Elektro Moon Vision @ PATCHlab 2013
Special thanx to Tibor Fekete.
---
During the 6th rOBot festival 2013 in Bologna we create live mapping on the facade of Sala Borsa, just outside Palazzo Re Enzo in the heart of Bologna.
---
Check out our Barbarum Fretum – an interactive installation-object created in frame of ArtLine EU project @Blekinge Museum | Sweden | May 2013
[vimeo http://www.vimeo.com/70237432 w=1000&h=281]
---
---
'already there' video created for ep produced by lee norris & dimitar dodovski published by kaico records [2013]
[vimeo https://vimeo.com/60130367 w=1000&h=281]
---
9-10.11.2012 – we introduce the 1st edition of Digital Art Festival PATCHlab in Krakow that we organised as AVnode network event. We also enriched program with our interactive projection Space Room.
PATCHlab included exhibition, workshops, AV performances and live-acts and 2 audiovisual nights. Check it out! More details on the festival webpage www.patchlab.pl
[vimeo http://https://vimeo.com/53502923 w=1000&h=281]
---
We are proud to announce our presence at BTH Research Seminar "Performing Exhibitions: Displaying Digital Art and Media" in Karlskrona, Sweden.
October 26, 2012 / 09.00-18.00.
Cu there!
---
Armitage.tv published a short interview with us including Underconstructions av performance video preview from B-Seite Festival 2011!
Special thanx to Roman Heller.
here >>    http://www.armitage.tv/wp-2011/underconstructions-elektro-moon-vision-sushi-interview/
---
25-27.05.2012 | Space intervention with [Urban:Lab] video installation @ClipAward Short Film Festival || Mannheim | Germany
---
Interactive installation at Plac Zamkowy in Warsaw | 17.03.2012
[vimeo http://www.vimeo.com/42237253 w=1000&h=281]
---
London-based mondo*arc – the international magazine for designers with light highlights our mapping installation Construction 8.9  presented at the Narracje Festival in Gdańsk! 
---
Check out video of our mapping installation Construction 8.9 || Konstrukcja 8.9 during Narracje – Installations and Interventions in Public Space Festival in Gdańsk | 17-20.11.2011
[vimeo http://www.vimeo.com/34739115 w=1000&h=281]
---
360º caravan mapping @ Feeemote New Media and Co-Creation Festival 2011, Utrecht, Netherlands
[vimeo http://www.vimeo.com/33780502 w=1000&h=281]
---